HCC Holds Women's Wind Tower Climb
5/26/2010

FREEPORT � Nine area women experienced what few people have the opportunity to do when they climbed to the top of a 375 ft. wind turbine tower as a part of Highland Community College�s first Women�s Wind Tower Climb on May 20, 2010. The climb was held at the Mendota Hills GSG Wind Turbine Park in rural Lee County and was hosted by the Blaurc Group, an Alternative Energy management firm.
The women representing area educational institutions and media organizations donned industry-standard safety harnesses and scaled the internal ladder some 12 stories high into the nacelle (turbine housing) of a 2.0 mega watt wind turbine. really funny pictures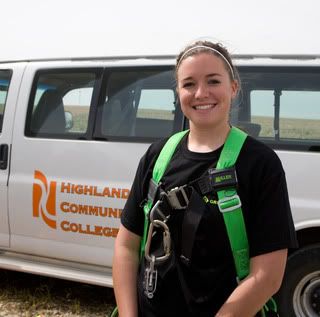 Recent HCC graduate Amanda Miller funny pictures
�I am here today to show that a woman is able to do this job (wind turbine technician) that is typically held by men,� said recent HCC graduate Amanda Miller. �I am excited about going up that tower.�
The event was the creation of wind turbine technology instructor, Dave Vrtol, who would like to see more women apply for HCC�s Wind Turbine Technician certificate and degree programs. Begun in the fall of 2008, the Associate of Applied Science degree was the first of its kind in the state of Illinois. With some 56 students accepted into the program, no women have started the program.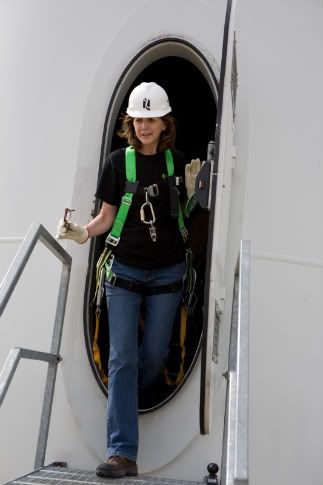 Jennifer Kanosky of Freeport High School funny images
Freeport High School guidance counselor, Jennifer Kanosky thinks that the wind tower climb will be helpful in her work advising students of various career paths. �As a school guidance counselor, this will give me a good idea of the type of work that is involved in this field,� she said.
�While we did have more applicants than we have space for this year, there were no female applicants this year,� said Highland�s dean of business and technology, Scott Anderson. �With this event, we are really looking to promote this career choice to women who may be interested in this kind of work.�
funny photos
For more information regarding the wind Turbine Technician program at Highland Community College, visit http://www.highland.edu/academics/programs.asp or call 815.599.3612
Highland Community College offers more than 60 programs of applied and transfer degrees, community education and business training. In addition to comprehensive academic programming, Highland provides theatre, art and music opportunities for the community. Highland Community College is accredited by the Higher Learning Commission and is a member of the North Central Association�s Academic Quality Improvement Program. Located in Freeport and Elizabeth, Highland is conveniently positioned in the tri-state region with access to several major metropolitan areas.
_________________________
OFFICE OF COMMUNITY RELATIONS
2998 W. Pearl City Road
Freeport, IL 61032-9341
815-235-6121
Fax 815-235-6130