Truck Driving Classes Return to HCC
11/25/2009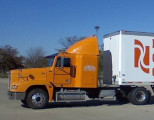 Start a new career in as little as four weeks with Highland Community College�s Truck Driver Training Course. This course will prepare you for an entry-level position in the trucking industry. funny picture quotes
The Truck Driver Training course can be completed in four weeks by attending classes on Monday through Friday from 8:00 a.m. to 4:30 p.m. The course is also offered part-time with evening classes that are scheduled for Monday through Friday from 6:00 p.m. to 10:00 p.m. Part-time training can be completed in eight weeks. The program includes the Illinois Secretary of State administered Class A road test. funny pictures
Students may register at any time by calling 815-599-3418. New full-time training courses start every four weeks and the part-time evening program will be offered soon. funny images
The course fee is $3879.00. There are no additional charges for books or supplies. The Illinois class A permit fee is an additional charge of $50.00. Cost for the Department of Transportation (DOT) physical and drug screen may vary. This course is worth seven hours of college credit. funny photos
A high school diploma or GED is not required. However, individuals must be over 21 years of age, able to read and write the English language, be able to meet the Federal Department of Transportation (DOT) physical requirements, and have a valid driver�s license at the time of registration. The program may train individuals 18 years of age, but has limited job placement assistance for individuals under the age of 21.
Find out more about Premier CDL Training Services here.
To schedule a registration appointment, or for additional information about this program, call 815-599-3418 or Links: go here.
_________________________
OFFICE OF COMMUNITY RELATIONS
2998 W. Pearl City Road
Freeport, IL 61032-9341
815-235-6121
Fax 815-235-6130