HCC Automotive Programs Go Green
10/15/2009

FREEPORT, IL � The Highland Community College automotive programs are undergoing efforts to become more environmentally friendly through the use of new technologies thanks to donations from AkzoNobel Coatings, Inc. and State Farm Insurance. The result is a restored 2007 Toyota Prius hybrid finished in environmentally friendly waterborne paint. funny picture quotes
Highland�s auto body repair program has recently begun using the new paint technology in large part due to an in kind donation of $21,800 from AkzoNobel Coatings, Inc. The HCC Auto Body shop is near completion of hosting a state of the art waterborne paint mixer, spray booth, Sikkens Autowave tones and associated components. With the use of this new technology, harmful solvent emissions can be reduced by 85% when compared to the use of standard solvent based paint systems. funny pictures
�Our auto body instructor, Tom Bergstrom, has been looking into this move for some time,� said Highland dean of business and technology, Scott Anderson. �We whole-heartedly endorse the new system for environmental reasons, but it is also part of our commitment to employ the latest technology in our training processes. Waterborne paint applications are the wave of the future.�
Bergstrom and instructor Todd Vacek received training in AkzoNobel�s waterborne technology hosted by Highland in March of this year. According to Bergstrom, �We had nearly 60 individuals participate in the training which included equipment needs, cycle times, better paint coverage, improved efficiency, higher profitability and the �green� element of less pollution due to lower volatile organic compounds released by the new system.�
The process of fully converting the shop�s solvent based paint booth and mixer over to the new system should be completed in the next few weeks. funny images
With the assistance of AkzoNobel Coatings, the new waterborne paint has already been applied to another �green� donation to the automotive program � a salvaged 2009 Toyota Prius hybrid supplied by State Farm Insurance. The automotive technology students repaired the damaged mechanical and electrical components using diagnostic tools designed for use on hybrid vehicles.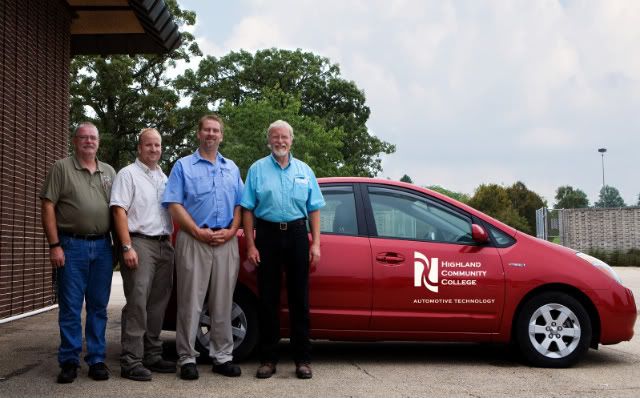 HCC automotive staff (from left to right): William �Jeff� Robertson, Todd Vacek, Jim Palmer and Tom Bergstrom with the restored 2007 Toyota Prius.
�Our students underwent some real world experience in repairing a modern hybrid vehicle,� according to HCC automotive technology instructor, Jim Palmer. �This level of work is significant in that it gives our students an edge when they enter a field that will likely see significant growth in hybrid vehicles.�
The car was then turned over to the auto body students to restore and finish with the new paint system. funny photos
�We feel very fortunate to have been selected for these donations,� Anderson concluded, �They have been, and will continue to be, useful in providing our students with the latest in automotive repair technology.�
Highland Community College offers programs in Auto Body Repair (AAS), Basic Automotive Service Level I and Level II (Certificates), and Automotive Technology (AAS).
For more information regarding these programs call 815.599.3612, or visit hccautomotive.com.
_________________________
OFFICE OF COMMUNITY RELATIONS
2998 W. Pearl City Road
Freeport, IL 61032-9341
815-235-6121
Fax 815-235-6130