HCC inducts first nursing students into Alpha Delta Nu Beta Delta Chapter
3/3/2014

The Highland Community College Beta Delta Chapter of the Alpha Delta Nu Nursing Honor Society was chartered in 2013. Second-year traditional and online nursing students were selected to participate based on outstanding academic achievement and professional behavior in the nursing program.
On Tuesday, Feb. 25, sixteen nursing students were the first to be inducted into the Alpha Delta Nu Beta Chapter, where they were pinned and given a certificate.
Inductees must have a 3.0 GPA or better in all nursing classes, which is 86 percent in the nursing curriculum. Students were required to actively participate in service projects that were in keeping with the objective of the Nursing Honor Society. At Highland three projects were completed: education regarding Pertussis (commonly called whooping cough) and the Tdap immunization, which is a vaccine that protects against three potentially life-threatening bacterial diseases: tetanus, diphtheria and whooping cough at Northwest Illinois Community Action Agency's Golden Meals program and Heritage Woods assisted living facility. The third group performed hand washing demonstrations, practice and education at the YMCA Children's Center on the HCC campus.
"Students were invited to be part of the nursing honor society based on their first year grades," said Maggie White, nursing faculty and advisor for Alpha Delta Nu. "Being a part of this chapter is another way to recognize extraordinary students and honor them for their hard work. It will help each of them stand out on their resume. These students have performed a vital service to their community."
Traditional students honored were: Elena Rodriguez, Miranda Frazier, Kassandra Wells, Carrie Clark, Jennifer Lillie, Laura Olson, Cassandra White and Dana Workman. Online program students inducted were: Kirk Meyer, Brandon Mills, Nickole Butler, Kyle Benning, Leanne Grahame, Jacinda Johnson, Tracy Melges and Laurie Swartz.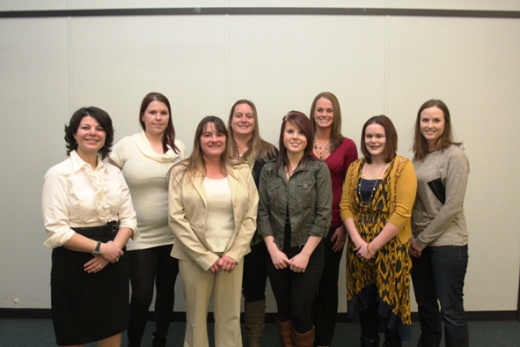 Traditional nursing students at Highland Community College inducted into the Alpha Delta Nu Beta Delta Chapter, from (left to right) are: Elena Rodriguez, Laura Olson, Carrie Clark, Miranda Frazier, Kassie Wells, Jennifer Lillie, Casey White and Dana Workman.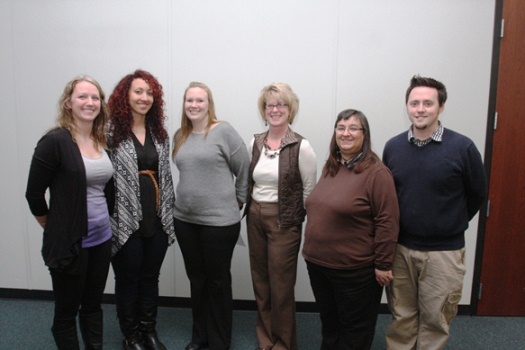 Online program nursing students at Highland Community College inducted into the Alpha Delta Nu Beta Delta Chapter, from (left to right) are: Nickole Butler, Jacinda Johnson, Laurie Swartz, Leanne Grahame, Tracy Melges and Brandon Mills. Not pictured are Kirk Meyer and Kyle Benning.
_________________________
OFFICE OF COMMUNITY RELATIONS
2998 W. Pearl City Road
Freeport, IL 61032-9341
815-235-6121
Fax 815-235-6130