HCC's Jim Phillips Wins Distinguished Alumni Award
5/19/2009

FREEPORT � Highland Community College instructor, Jim Phillips, was recently granted Western Illinois University History Department's 2009 Distinguished Alumnus Award. Phillips began his career at Highland as an academic advisor in August 2000, immediately after graduating with his M.A. in History from WIU. In July 2004 he became Highland's transfer coordinator before joining the teaching faculty a year later.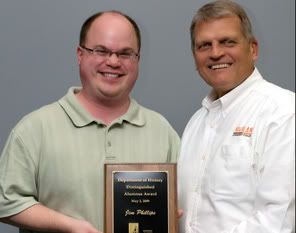 Jim Phillips, left, and HCC President Joe Kanosky funny pictures with captions
He was presented with a plaque commemorating the award by WIU History Department chair, Dr. Virginia Boynton, at the department�s annual History Conference on May 2, 2009. Dr. Boynton noted Jim�s accomplishments at Highland as a significant factor in his being selected for the award. Phillips has served as the Honors Program Director since February 2008. He assists in developing and monitoring Honors Program projects and curriculum, oversees and participates in promotion of the Honors Program, maintains relationships with program alums, and will evaluate the program on an annual basis. funny pictures
In addition to chairing the Honors Committee, Phillips is co-advisor of the Highland History Club, treasurer and Negotiations Committee chair of Local 1957 of the Illinois Federation of Teachers, and is a member of the college-wide Code of Ethics Committee, the Assessment of Student Learning Steering Committee, the Social Sciences Program Review Committee, the Commencement Committee, and the Insurance Committee. funny images
Beginning in July 2009, he will serve on the board of the WIU Alumni Council.
Mr. Phillips is also an active historian in the community, giving public presentations titled "Chasing the Mongoose: American Foreign Policy in Cuba, 1960-1963" and "The Duel Between Alexander Hamilton and Aaron Burr" as part of the American History Speaker Series at the Freeport Public Library. funny photos
_________________________
OFFICE OF COMMUNITY RELATIONS
2998 W. Pearl City Road
Freeport, IL 61032-9341
815-235-6121
Fax 815-235-6130