Highland Student Wins Scholarship for Work on Honors Project
5/7/2010

FREEPORT� Highland Community College student, Shannon Polly, was awarded a $100 scholarship for her first place award in the poster session at the Midwest Institute for Students and Teachers of Psychology held at the College of DuPage in Glen Ellyn, IL.
Polly�s poster represented the findings of her research regarding the relationship between personality traits and an individual�s activity on Facebook, the popular social networking site. The project was in competition with 33 other undergraduate posters from colleges and universities all over the Midwest including DePaul and Loyola.really funny pictures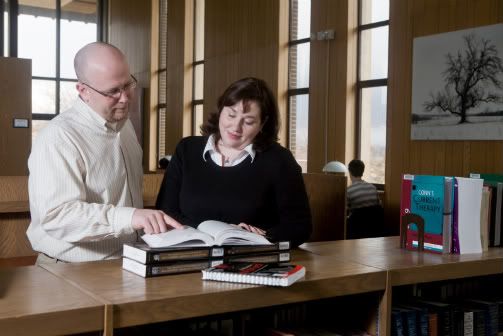 Psychology instructor Paul Rabideau and Honors student Shannon Polly find research resources in the HCC Library. funny pictures
The research was conducted as part of an Honor�s Program project in Paul Rabideu�s Social Psychology class. The HCC Honors Program provides students with enriched and advanced study related to general education courses and/or areas of concentration or specialization. Honors students work on individual research with instructors or participate in honors courses with fellow honors students. funny images
Polly pondered why and how people use to the social media tool. �I learned people accurately portray themselves on their Facebook profiles,� she said. However, Polly discovered people were usually less forthcoming on personal Web sites. Delving into the Facebook phenomenon became the theme of a Social Psychology research proposal, which Highland instructor Paul Rabideau assigned. Rabideau required students to research a subject, discover research gaps and fill those holes. He also volunteered to serve as Polly's Honors mentor.
�I think this project provided Shannon with the unique opportunity to see firsthand how behavioral research is completed,� Rabideau said. funny photos
For more information regarding Highland�s Honor�s program, visit www.highland.edu/honors.asp.
_________________________
OFFICE OF COMMUNITY RELATIONS
2998 W. Pearl City Road
Freeport, IL 61032-9341
815-235-6121
Fax 815-235-6130